Prime Day phone deals in October: recap
2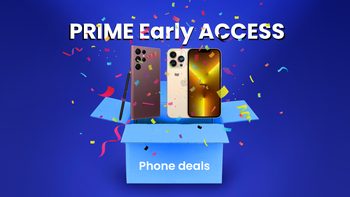 That's it! The second Prime Day of the year is now officially over. Now, if you're looking for a great phone deal, you may have to wait for
Black Friday
.
This article contains a recap of the deals we saw during the first and second Prime Day sale events (the one in July and the one in October).

October Prime Day Samsung Galaxy deals: recap

In July this year (the first Prime Day event), the offers on Samsung Galaxy phones were mind-blowingly awesome, to put it simply. Amazon, Best Buy, and Samsung itself were in the deal race, each offering incredible offers on the latest and greatest from Samsung.

Unlocked Galaxy S22 phones were generously discounted on Amazon with Prime membership. The Galaxy S22 Ultra was selling for 30% off during the sale event! On the other hand, Samsung was offering (
and still is for now
) enormous trade-in discounts, $1100 off for the Ultra, by the way, on all its hottest phones.
The Z Flip 3 and Z Fold 3, Samsung's ever-so-growing-in-popularity foldable phones, were also retailing with slashed prices during the shopping event. The Z Fold 3 was 30% off unlocked at Amazon, while its Verizon-locked variant was $700 off at Best Buy! The Z Flip 3's Verizon version was $600 off at Best Buy (half of the phone's price, mind you!), so Verizon customers willing to get a foldable phone would have been very, very happy during Prime Day 2022.

As for the Prime Day October sale event, we got awesome enhanced trade-in deals from Samsung on the hottest phones.

October Prime Day iPhones deals: recap
Well, what about iPhones? The iPhone 13 series were discounted at Best Buy in the beginning of the Prime Day week in July and some models were $100 off (no trade-in required).

We all know that it can be quite the challenge to hunt for a deal on an iPhone (especially the newer models!). Well, the best
iPhone Prime Day deals
didn't go over the $100 mark, except for some of the older models like the iPhone XS. Simply put, you had discounts ranging from 6% to 10% on iPhones during the sale event. But those were discounts on the latest iPhone 13 models!
As for the Prime Day October sales – we got the iPhone 14 series with trade-in offers at Best Buy (carrier contract was necessary for the deals there).

October Prime Day deals on Google Pixel phones: recap
For Google Pixel 6 adopters, things were glorious during Prime Day in July. The Pixel 6 Pro saw a generous $200 discount on Best Buy and Amazon (for the unlocked version). The vanilla Pixel 6 was $100 off at Best Buy, and the deal at the retailer required activation of the unlocked phone.

And at the second Prime Day, the deals on the Pixel 6a and the Pixel 6 Pro were glorious as well.

October Prime Day deals on OnePlus, Motorola, Nokia phones: recap
Prime Day was great also for OnePlus buyers, and especially Motorola phones adopters. First off, the OnePlus 9 and OnePlus 10 Pro were discounted at Amazon (11% off for the 10 Pro there).

Motorola phones blew all deals out of the water though! Almost every phone model from Motorola was discounted during the sale event, on Amazon, as well as on Motorola's own website. We are talking big deals here: Motorola Edge from 2021 was 43% off at Amazon, the foldable Moto Razr again 43% off, while models from the Moto G series, including the G Stylus, had discounts ranging 30-35%. Best Buy also matched some of the Moto discounts and had some Moto models more affordable than ever.

Amazon's October Prime Day sales event was great for buying a Motorola or OnePlus phone. Even the OnePlus 10 Pro was discounted during the sales.
There's on important thing to mention. For you to be able to get a Prime Day discount at Amazon during the event, you have to be a Prime Member. You can click the link below and get your Prime subscription ready to score some generous phone discounts:

Are Prime Day cell phone deals worth it?
That's a very good question and there is no definitive answer on whether or not Prime Day deals on cell phones are worth it. Getting an iPhone with a big Prime Day discount is an interesting challenge; however, this year in July, cell phone deals rocked. The newest iPhone 13 series got discounted by $100. In the Android phone department, especially on models from Samsung and Motorola, as well as OnePlus, the deals were epic!

Cell phone deals on Prime Day are worth it especially when it's a pure discount, like Amazon or Best Buy. Of course, choosing a good plan with your carrier related to a deal for a phone you like is also good strategy, just make sure you calculate everything yourself and don't forget to ask your carrier whatever question comes to mind in case you're wondering about a deal.

How to get the best cell phone deals on Prime Day?
Although finding the best deal is somewhat a challenge, we have some tips that might come handy when the sale event begins. First off, we recommend making sure to track price changes on a product you have set your eyes on.

In order to monitor price changes on a phone you like, you can add it to your card without ordering, and that way, you can get notified by Amazon if the price tag changes. Additionally, you can compare the same device's price at other retailers or at your carrier to get a bigger picture of the deal you're thinking of going for.
On the topic of getting the best Prime Day deal, we even have a nice guide on
how to shop Prime Day deals
, with tips and tricks you can use during the sales to make the best purchase.
How to pick the best smartphone deal?
We get it, the smartphone market is saturated, and it's often hard to figure out if a deal is really... a deal, or you are getting very little value for your money.
OK, here are a few rules of thumb:
Check model year

- devices from 2022 or 2021 will always be the best to go for, as they are fresh, powerful, and still get the latest software. Exception:

Yesterday's flagship is better than today's midranger

- a Galaxy S21 (2021) will be the better phone than a Galaxy A53 (2022). One was made to be the top-tier phone of its time, the other one was made to meet a budget. And the old flagship will come at massive discounts! Obviously, there's a threshold of how back you can go with this rule.

Make sure you scroll through the color options

- some devices get bigger discounts only in certain paintjobs.

Don't shy away from carrier contracts

- if you are approaching the end of your current contract or have already passed the date, it's a great time to re-subscribe and get an awesome phone deal to boot.

Consider trade-in?

Typically, you can get better money for your old phone on the second-hand market. However, selling the phone yourself can be an ordeal, especially if you need to figure out shipping or communicating with rude buyers. During the sales events, some stores are running so-called "enhanced trade-ins" that can give you better value for your phone, with no extra headaches attached!

Before you pull the trigger

- make sure that deal really is a... deal. Websites like camelcamelcamel.com will show you the pricing history of products, lowest-ever price, and recent price. That way, you can figure out if you really are saving as much as it says on the device's page, or if it's smoke and mirrors.

Pull the trigger

- once you've made sure you've found a bargain — the bargain that you want — there's little time for hesitation. Sales events usually don't last long and products circulate out from the deal spotlight (or they sell out due to limited quantities), just as October 12 happens to be the final Amazon October Prime Day date.