Apple Watch Series 4 will be compatible with all your current bands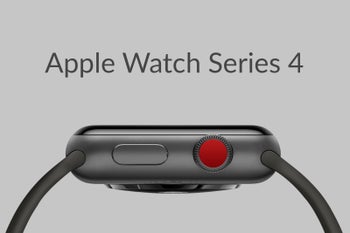 Apple's September event is just around the bend, and there's a lot to get excited about.
Three new iPhone models
are reportedly slated for an official reveal, as well as the
Apple Watch Series 4
, which is said to be the biggest upgrade of Apple's wearable since the first model.
Samsung earlier this month unveiled the excellent
Galaxy Watch
(formerly known as the Gear S4), while Google has its own smart timepiece — the
Pixel Watch
, if rumors are to be believed — under wraps and slated for reveal in October. That said, Apple has a lot to prove with the Watch Series 4, and if the latest bout of rumors is anything to go by, the company is on the right track.
The latest report by
Bloomberg
sheds light on two rumors we've been hearing about over the last months – the size of the display on the
Apple Watch Series 4
and what bands it will be compatible with. The report delivers good news on both accounts.
Esteemed Apple tipster Ming-Chi Kuo speculated earlier this year that the
Apple Watch
Series 4 will have a 15% bigger display than its predecessors – information that was corroborated by other sources and is now being confirmed by
Bloomberg.
What this likely means, is that we are getting a watch with much thinner bezels than before, and possibly a screen with rounded corners,
iPhone X
-style. If this information is correct, then the bigger Apple Watch Series will likely sport a 1.78-inch display, while the smaller model will have a 1.57-inch display.
The Apple Watch Series 4 could have a 15 percent larger display than its predecessors
Furthermore, the new report claims that all current Apple Watch bands and straps will be compatible with the new version. This likely means that the Apple Watch Series 4 will be available in two sizes — 38mm and 42mm — much like the older models. There were rumors earlier in the year claiming that Apple may introduce an even bigger timepiece in 2018, and though this isn't completely out of the question, it's pretty much certain at this point that it will also be available in 38mm and 42mm.
This is good news for everyone who's looking to upgrade to the Apple Watch Series 4, but wants to hold on to their current straps. That's especially important, considering Apple's official bands are not the cheapest around.
On the other hand, this also likely means no smart straps. Apple was rumored to be looking into smart bands for its future wearables, and was even granted a number of patents, but it seems like this idea won't materialize in 2018. Smart straps could, for example, be used to house different hardware components, such as a secondary battery or a camera, that would add new features to the Apple Watch, without increasing its size. Unfortunately, as this would require special connectors on the device itself, the Apple Watch Series 4 may miss out on this innovative feature. Next year, however, we may finally see the idea come to fruition.
ALSO READ: