Final details about 2018 iPhones revealed: 3 models with focus on speed and camera improvements, big upgrade next year
26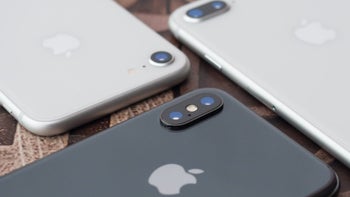 Apple will release three new iPhones this year and the final details around those devices have now been revealed by a fresh report from Bloomberg that cites the publication's infamous people "familiar with the matter".
The three new iPhones will all adopt an edge-to-edge design with a notch and Face ID instead of Touch ID, and they will all use the new gesture navigation interface that Apple introduced with the iPhone X.
There will be a 6.1-inch iPhone with an LCD screen, the cheapest of the bunch, and the only one of the trio that will have one camera on its back. Then, there will be an iPhone X successor that will introduce improvements to performance and camera, mostly seen as an S upgrade over last year's model. Finally, Apple will also bring the much anticipated premium iPhone Plus model with a 6.5-inch OLED display and all-out specs. The three models carry the following codenames within Apple: N84 (LCD model), D32 (iPhone X successor) and D33 (Plus model).
2018 will be an S year for iPhones, big upgrades scheduled for next year
What is interesting in this report is another confirmation that we will see more diverse prices with this year's models, meaning that you will not be limited to $1,000 phones only, but are likely to have more affordable and more premium options available. With smartphone sales maturing, Apple is still on its way to steadily raise prices for its products to maintain its sales margins.
The most interesting of these three new models seems to be the premium Plus-sized new iPhone, the D33. With a 6.5-inch display, it will be the biggest iPhone ever made, and it will feature a glass and metal construction like the X. The new thing is that you should be able to use split-screen view on more apps. Unfortunately, it seems that rumors of three rear cameras on this phone will not come to fruition, at least not this year.
Even Apple seems to be struggling to settle on names for the new iPhones...
Another curious detail is a confirmation that we will indeed see a dual SIM version of iPhones for the first time in certain markets.
The new iPhones are well on their way to launch in September and are allegedly internally referred to as an S year upgrade, rather than a big revolution.
What will they be called? Apple itself seems to be struggling with the naming of the devices: the company has considered calling them an iPhone Xs, using the Plus name for the large model, but it seems that it has not settled on a final name just yet.