Apple's second-gen AirPods go down to a little over $100 with 90-day warranty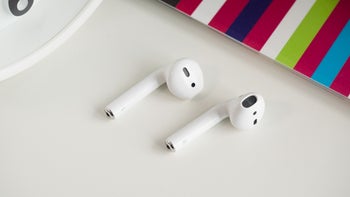 If you're in the market for a swanky new pair of true wireless earbuds, you might be wondering if it's still worth buying Apple's "old"
second-gen AirPods
when
a Pro version
is
reportedly right around the corner
. The answer can be pretty simple depending on how much money you're willing to spend, as the AirPods Pro are widely expected to start at $250 or even $260 while the early 2019-released model is currently available for as little as $106.25.
We're naturally talking about a second-generation AirPods variant sold alongside a standard wired charging case, which typically costs $159. In order to save almost 53 bucks compared to that list price, you'll need to be okay with purchasing seller refurbished units backed by a 90-day warranty. Said seller is a highly respected one, mind you, called VIPOutlet, which has been an eBay member for more than 17 years, maintaining an excellent 97 percent positive feedback score in the last 12 months based on over 100,000 customer ratings.
Even if you're not a big fan of refurbished gadgets, you may want to give this particular deal a shot, as the aforementioned top-rated eBay vendor vows to ship only "grade A" devices with no cosmetic defects, blemishes, dents, scratches, or signs of age. These are obviously fully functional headphones, rigorously tested to ensure they can deliver the highest possible quality while looking pretty much as good as new on the outside.
Technically listed at $125 a pair, the AirPods 2nd Gen with charging case on sale here in a "limited quantity" are eligible for an extra 15 percent discount that will be applied directly in your cart. While these bad boys don't come with noise isolation or waterproofing features, their stellar battery life, lightweight design, H1 power, and Hey Siri support are arguably enough to justify a purchase at a crazy low price of 106 bucks even right before the AirPods Pro should be announced.