ZTE Windows Phones hitting the States by year-end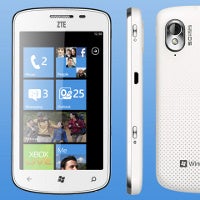 Chinese
ZTE will bring its Windows Phone devices to the United States
by the end of the year, according to the company's North American head Lixin Cheng. So far, ZTE has released the affordable ZTE Orbit in the UK, and the ZTE Tania is available in a couple of markets. The latter, a 4.3-inch Windows Phone on a budget, is a rare bird as it's probably the only budget WP device with that huge of a screen. And it's exactly the device that is expected to hit the US market first.
The ZTE top executive had a couple of words to say about the user interaction experience on different platforms as well:
"In my personal experience, the iPhone, of course, has a well-polished user interface experience,"
Cheng said.
"And then Windows, and then Android."
Interestingly, the majority of handsets the Chinese company makes are running on Android. Also, the company was initially at odds with Microsoft as the software giant allowed for only higher end devices to launch at the platform. This conflicted with ZTE's plans to offer affordable devices, but luckily for both the specs for Windows Phone got loose and both ZTE and Nokia now offer affordable phones on Microsoft's platform.