Yet another Staples coupon chops $100 off the price tag of select tablets
3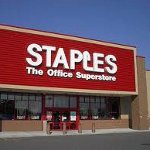 Earlier in the month, we saw Staples dropping the price of the
Motorola XOOM Wi-Fi to as low as $450
with the aid of a $50 off coupon, but sadly though, it was only valid for a mere two days. Well, this time around, they surely have something that will undoubtedly pique your interest on a whole new level.
Interestingly enough, they're juicing things up with a $100 off coupon that's valid until the end of the month (7/30) – though, it's only good on select tablets. Reading the fine print, the tablets that are mentioned as being excluded in the offering include the HP TouchPad, Amazon Kindle, and the Barnes & Noble Nook.
Undeniably, this is one special promotion that's very difficult to overlook, but we're sure you'll be spending time on thinking about which one to pick up more than anything else.
via
Android Central