Xiaomi Mi Note 3 leaked retail box confirms Snapdragon 660 CPU and 6GB RAM inside
6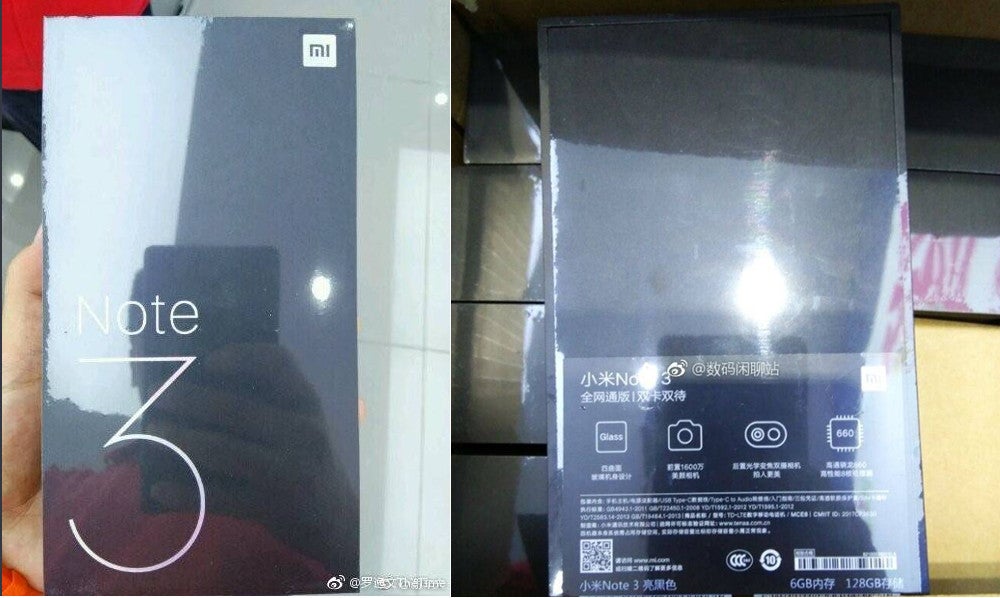 The second next big thing coming from Xiaomi, the Mi Note 3 will be unveiled in less than 24 hours alongside the company's flagship, the Mi MIX 2. Little was known about the upcoming Mi Note series device since aside from a few confusing reports there were no accurate leaks about the Mi Note 3.
Well, one day ahead of the Mi Note 3's official unveiling, we have clear information about the smartphone's specs. Despite the fact that Xiaomi Mi Note 3 will probably be limited to China and a few other Asian countries (India?), this looks like a very solid choice for those looking for an affordable high-end smartphone.
Two pictures of the phone's retail box have just been leaked online, which wouldn't be that interesting unless the back of the package wouldn't tell us more about the Mi Note 3.
It looks like Xiaomi Mi Note 3 will be equipped with a Qualcomm Snapdragon 660 processor, coupled with no less than 6GB RAM and 128GB internal memory. Although Xiaomi might launch a "lighter" version of the Mi Note 3 with 4GB RAM and 64GB storage, it's good to know customers have the option to go all the way and grab such a powerful phone.
The retail box also reveals the phone will do away with the headphone jack, but it will definitely include USB Type-C. We're also expecting the Mi Note 3 to feature a larger than 5.15-inch display, and possibly a very generous battery to go with it.