Xfinity Mobile reveals the best Black Friday and Cyber Monday deals
1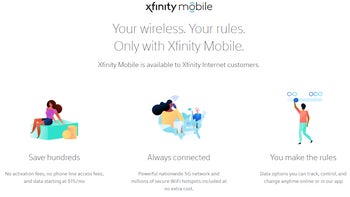 Xfinity Mobile
might not be among the largest carriers in the US, but it does offer a unique feature: it lets customers connect to more than 18 million Wi-Fi hotspots across the country, without having to use cellular data.
That being said, those who consider switching to Xfinity Mobile or current users, are in for a nice surprise, as the company revealed some of its
Black Friday and Cyber Monday deals
. You can find below the main highlights of this year holiday sale:
Xfinity Mobile Holiday Deals
Apple: $250 off any new purchase of an iPhone 12 or any apple cellular device (Oct. 16 – Jan. 4)
Samsung 5G: $300 off any new purchase of an eligible Samsung device (Nov. 2 – Dec. 7)
Samsung A Series: $150 off any new purchase of a Samsung A Series device (Dec. 14 – Jan. 11)
Google: $250 on any new purchase of an eligible Google device (Dec. 14 – Jan. 11) (the eligible device is the Pixel 4A 5G)
Moto/LG: $100 off any new purchase of an eligible Motorola and LG Phones (Nov. 2 – Dec. 7)
If you're not looking for a new smartphone, here is what you'll find at Xfinity Mobile:
Cost savings
No activation fees
No phone line access fees
Shared data or per line data plan options (can change anytime)
Data plans to start at $15/mo
Extensive access
Powerful 5G network
Millions of secure WiFi hotspots included at NO extra cost
No Commitment
Change your data plan at any time, even mid-cycle with no fees
No service/data cancelation fees
For those unaware, Xfinity Mobile is using Verizon's LTE network and
5G
service in select cities nationwide, so if you're in the market for a 5G-enabled smartphone, you should check
Verizon's 5G network coverage
.