With the disappointing Xperia Z3+ in mind, do you think Sony's headed for trouble?
69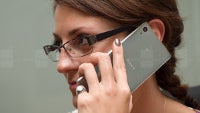 When the Sony Xperia Z3+ arrived at the office last week, we were naturally curious to see if the struggling Japanese titan has managed to deliver meaningful improvements over the Xperia Z3. As has become typical of Sony devices, the policy of 6-month refreshes of the flagship line have made it harder and harder to truly appreciate what the company is doing, and we ended up rating the Z3 as less satisfactory than the Z2 at the time of their respective releases. Unfortunately, we were forced to rate the Xperia Z3+ even worse than its predecessor, reaching an all time-low rating of 7 out of 10 for its flagship Z line.
We won't waste your time here, trying to justify our score —
you can (and should) go through it as soon as possible
— and just mention that one of the redeeming qualities of the Z line as of late is nowhere to be found with the Z3+: battery life. Indeed, while the Z3 managed some 9 hours and 30 minutes, its successor died shortly after the 7-hour mark, which is a significant downgrade. With this rather poor showing in mind, and with nothing but the Verizon-bound Sony Xperia Z4v to look forward to in the near term, do you think Sony's headed for trouble?