With T-Mobile trailblazing, Verizon CEO sees the end of phone subsidies as a 'great thing'
36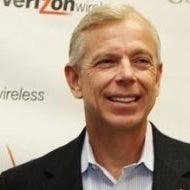 It is a little experiment Deutsche Telekom is playing with its T-Mobile US affiliate to
cut phone subsidies out of the equation
, but a "great thing" for Verizon's CEO Lowell McAdam.
That was Big Red's chief comment during an interview today at the CES 2013 expo currently ongoing in Las Vegas. He actually joked that if the FDIC was willing to ban phone subsidies, Verizon will be all for it, and can "
move to that very quickly
," if the scheme proves popular with people.
AT&T's CEO was slightly less exuberant on the matter yesterday in his own turn, reminding us all that common folk have been groomed for too long to have the cost of the handset buried inside the monthly plan, and pay just a hundred or two upfront even for the best of them. "
Our research says that they [customers] don't like paying upfront for the phone. There didn't seem to be the appetite for that kind of plan,
" he commented.
Internal research and focus groups are one thing, however, and resistance to change a whole other, but the carriers have been warming up to the idea the whole of last year, and the trend is likely to increase in 2013, seeing the record profits they reap. All eyes are on T-Mobile now, which lets you pay for your phone on something like interest-free monthly payments, if you don't pony up the whole cash upfront, which, after all, the big two also do, jacking up plan prices to cover phone cost subsidies.
The carriers are ripe for change that will reveal the true cost of handsets for consumers, but are you ready to pay a couple of hundred more for your dream phone upfront in exchange for lower monthly plans? T-Mobile's experiment with the US consumer habits will tell.