Windows Phone with Laptop-class processor was a Dell prototype with X86 chip, full Windows inside?
34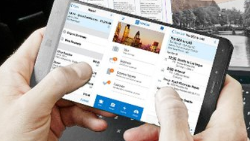 Just the other day, we passed along a tweet from Evan Blass which indicated that
Microsoft had been working on a new phone powered by an Intel produced Laptop class processor
. Blass' original tweet had made it sound as though this had been an older project that was killed off. In an update, Blass tweeted that the phone is "Much more than just a concept. Stay tuned." The news quickened the heart rate of many Windows fans who were hoping that this would be the mythical Surface Phone. Marketing material tweeted by the serial leaker made it appear as though Microsoft was moving ahead with the project.
But this is not to be. According to
Thurrott.com
, the device displayed in the story was a prototype made by Dell that would have used an Intel X86 processor. The images of the device tweeted by Blass could have been renders since the Intel chip for this project could never fit inside such a thin device, especially if it needed a fan to cool down. While the Dell product was basically a laptop in a phone form-factor, it would have made phone calls using cellular connectivity. With a lap dock and an early version of Continuum, this product could have powered a device with a laptop sized screen, keyboard and mouse.
While it is interesting, intriguing and hopeful that Dell was planning on stuffing the "phone" with the full version of Windows 10, the truth is that the project could not be completed. One of the reasons why Dell had to kill it was that Intel let go of its low-end chip division.
Perhaps one day we will see Windows 10 Pro and Microsoft X86 chips powering up a mobile device with a phone style form factor. But today is not that day. Still, Dell's attempt earns it an "A" for effort.
source:
Thurrott.com
via
MSPoweruser