Windows Phone 8 launch wrap-up
7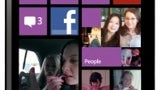 Today was the day when Microsoft said "Welcome to Windows Phone 8!" Indeed, the software giant treated us to a marvelous presentation where we got to learn a bunch of new and intriguing details about the new operating system.
While "new" may not be the most appropriate word when describing Windows Phone 8, due to the fact that there are very few visual changes compared to Windows Phone 7.x, but still, we have to admit that WP8 is such a vast upgrade that almost everything about the OS feels new, or at least, heavily improved upon.
So, exactly what did Microsoft show us today? Well, we didn't get to see any new devices, unfortunately, save for the Samsung ATIV Odyssey for Verizon Wireless, which will likely be a variant of the ATIV S. And we didn't really "see" the ATIV Odyssay, but rather, Steve Ballmer simply mentioned it. The most important thing today for Microsoft was to put the last pieces of the WP8 puzzle in their rightful places and announce that it is "all-in" with Windows 8 and Windows Phone 8.
Are you ready to explore what happened? Very well then, here's what we have for you...
WINDOWS PHONE 8 LAUNCH
COVERAGE