Jessica Alba swaps her iPhone for a Windows Phone
42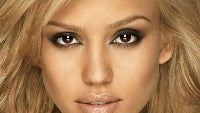 You hear that right, guys - Jessica Alba has finally let go of her iPhone in favor of a (Microsoft-provided) Windows Phone! Don't know what's so exciting about this piece of semi-lifestyle, semi-tech news, but nonetheless, we do feel excited about it.
During the official launch event of Windows Phone 8, Joe Belfiore and Steve Ballmer asked Jessica Alba to join them on stage and help them explain some of the more specific features of the new operating system. She seemed a bit nervous at first, but did a great job overall. Although, we're sure that even if she just stood there, without uttering a single word, we'd still have said that she's done a great job. Such wolves we are... But anyways, the woman did make a point of how easy it was (for Joe Belfiore, that is) to transfer all of her music library from her iPhone to her new Windows Phone device, and how useful the Kid's Corner is for parents who want keep their kids occupied for a bit (for one reason or another).
So there you have it, guys, one celebrity has now betrayed Apple and joined the ranks of Microsoft. Do you realize what this means, guys? There are only a few hundred left to go now! Keep it up, Steve!