Nokia Lumia 820 hands-on
12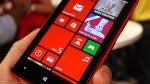 Indeed, the
Nokia Lumia 920
stole the show at Nokia's press event in the city – and rightfully so! However, towards the end of event, Nokia was kind enough to also unveil the baby sibling in the
Nokia Lumia 820
. Of course, it simply complements the high end stature of the Lumia 920, but that doesn't mean that there's no love attached with this one. Undeniably a Nokia Lumia, since it sports some of the same fashionable design well-known with series, this is aiming to win the hearts and mind of those who prefer a more mid-range option.
Interestingly enough, the Nokia Lumia 820 sheds a few of the established design characteristics of the flagship line, and instead, it sports a significant amount of
rounded edges
. Still, the plastic body stands out for the multitude of colors available with it. In fact, the back cover is actually
removable
, which can then be interchanged with any of the other available covers for it. Compared to the Lumia 920, the 820 is easier to handle since its smaller in overall size.
Very much like the last-generation Nokia Windows Phones, the alumina 820 sports a
4.3" WVGA ClearBlack display
, which of course, dishes up
saturated color tones
to reel in our attention. Combined with its high contrast and wide viewing angles, it's still more than visible in almost any lighting condition. In the rear, we're pleased to find an
8-megapixel PureView camera
with Carl Zeiss optics – ensuring that it'll provide close to the same delectable shots that its sibling is capable of producing. With the PureView enhancements, the smartphone is blessed with appreciable features like image stabilization, which does wonders when trying to shoot high definition 1080p videos.
Knowing that this is powered by a
dual-core 1.5GHz Qualcomm Snapdragon S4 processor
, we're not too surprised to find it running exceptionally well – albeit, it's a known fact that the Windows Phone platform tends to run buttery smooth in general. And that leads us into the Windows Phone 8 experience, which unfortunately, we're not able to experience much of since the attendees on hand prevented the media from peeking into anything except the homescreen of the Lumia 820.
Although we're in the dark regarding pricing and availability, we're really curious to know how much less it'll sell over the more equipped Lumia 920. Essentially, pricing will have a huge emphasis on how successful this device will become – or not. We shall see soon, we hope!