Microsoft knocks Google's Android for "copying" Apple's iOS
99+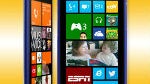 It's an accusation that we've heard before, mostly from Steve Jobs, but Microsoft has also taken the time to jab at Google and its Android OS. During the announcement for Windows Phone 8, Joe Belfiore took a swing at Android, claiming the OS copied Apple's UI and that design in those companies has "stagnated".
Of course, this is purely marketing speak from Microsoft. The entire point of the statement was to build up the Modern UI in Windows Phone, and the features available with Live Tiles. We may have to agree that iOS design has stagnated to a certain extent, but we give Matias Duarte a lot of credit for the design work that he has been doing for Google, and the improvements that Android has seen in the last year.
But, Microsoft has always liked using the story that smartphone UI had "stagnated" and become a lot of the same until Windows Phone showed up. It's not a completely honest statement, but marketing rarely is. Still, the new additions of resizable Tiles, and added info in WP8 is looking pretty interesting. We're looking forward to some hands-on time.