Microsoft's Joe Belfiore walks us through Windows Phone 8 (video)
10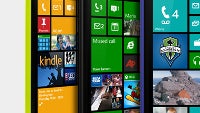 Windows Phone 8 has finally been launched today, and there is no other person like Joe Belfiore, the manager of the whole Windows Phone program at Microsoft, to walk us through all the neat little features the new platform offers.
While most of the innovation in WP8 comes under the hood with the introduction of the contemporary Windows NT kernel supporting all the latest multi-core processors and sharing much commonality with traditional desktop Windows, Microsoft is bringing some visual and user oriented improvements as well.
Joe Belfiore switches between a Nokia Lumia, an HTC Windows Phone and a Samsung Ativ for the demo, and it all ends with a nice little family moment with his twins at the end. This is definitely one of the nicer demos, Windows Phone has gotten, but will it sell? That's the big question that still begs for an answer.
source: Microsoft