Samsung ATIV Odyssey coming to Verizon by the end of the year
5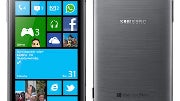 A single new phone was announced today during Microsoft's official Windows Phone 8 launch event, but it promises to be a beast - the Samsung ATIV Odyssey for Verizon Wireless.
Unfortunately, almost nothing is known about this device for now, as Steve Ballmer simply mentioned that it'll be coming to Verizon later in the year. We don't know any specs, and we don't have any images of the mystery device, which, however, may turn out to be not so mysterious.
The image that you see in the upper-left is of the
Samsung ATIV S
- Samsung's first and only (for now) Windows Phone 8 smartphone for international markets. We believe that the ATIV Odyssey will be a version of the ATIV S for Verizon, even more so when one of the codenames that the ATIV S was known by prior to launch was "Odyssey". What do you say, guys? Mystery solved!
Anyways, what we expect this device to feature is a really large 4.8" HD Super AMOLED screen, Snapdragon S4 Plus dual-core chipset with Krait CPU cores, Adreno 225 GPU, a gig of RAM, 16 GB of built-in storage and an 8 MP camera. But of course, at least some of these specs may change for the ATIV Odyssey.
And that's pretty much all we know about this phone for now. But we guess additional info is going to start leaking pretty soon, having in mind how close the launch of the handset is expected to be. Stay tuned!