Samsung ATIV S Hands-on
25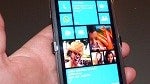 The
Samsung ATIV S
has had a bit of a low profile since it was announced earlier this summer, so we were very happy to see it on display at the Windows Phone 8 event today in San Francisco. No US carrier announcements have been made for this device, and since no information has leaked to show otherwise, we can safely declare that this Windows Phone 8 device is destined for Europe and other markets.
For folks in those markets, you should be quite pleased, as this device, while being a bit larger than the Nokia and HTC entries with Windows Phone 8, presents itself very well. Despite the security leash on it, there is a noticeable difference in the weight of the device. The noticeable feature of the hardware is the physical home button, which also works to wake the phone up. This is a handy feature, as the power/lock button is on the upper right-hand side of the handset.
When you wake it up, a beautiful 4.8-inch Super AMOLED screen greets you. The 720x1280 display is crystal clear and very responsive. The crisp display makes up for any size issues you may be concerned about.
Under the thin frame lies a beefy 2300mAh battery and dual-core Snapdragon S4 processor which does its part to deliver Windows Phone 8 effortlessly. It is a bit disappointing that this device is not going to be making a debut stateside (at least not officially, yet). However, Microsoft did reveal that Verizon would be getting the Samsung ATIV Odyssey sometime in December. For now, we cannot say if that device shares any specifications with the ATIV S we saw today.