Windows Phone 8 video overview of notable features and the future
22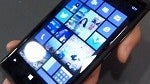 We were fortunate enough to be able to read up on a lot of features, hardware and other pieces of information that leaked over the summer following Microsoft's announcement of Windows Phone 8.
At the official unveiling of Windows Phone 8 today in San Francisco, most of the leaked information turned out to be true, and in some ways, things will be even better depending on your point of view. After the presentation, we got to see many of the devices up-close and there was a row of Microsoft specialists who were on-hand to go in-depth with some of the features.
Having read so much about what was coming with Windows Phone 8 before its release, we all felt pretty well informed with many features on Microsoft's new OS. While it has the familiar look of Windows Phone 7/7.5, it is a whole new OS, built from the ground up, and designed to deliver on a unified experience not just across Windows Phone devices, but the entire Microsoft ecosystem. As it pertains to the phones though, we got to see a bit more at the Windows Phone 8 event.
In the six videos below, we get to look at Wallet, Local Scout, Rooms, and Kids Corner. In addition to that, developers and interested users will want to take a look at the last two videos which touch on Nokia Drive+ "Alpha" and the vision Microsoft wants developers to have with the lock screen, and some forward looking ideas the company wants to see in Windows Phone.
Wallet we are somewhat familiar with, but Local Scout was completely redesigned for Windows Phone 8, and none of its features managed to leak prior to today's event. Local Scout's integration with Wallet is a nice set-up, and that is why those two videos are side-by-side.
Following that, we take a look at Rooms, and the features that it packs. Granted, it does not hold as much feature appeal if a lot of people in your "room" are not also on Windows Phone, but the set-up as a whole is nicely appointed. Kids Corner is something we know a fair amount about, but in case you are not up-to-speed with it, and you have kids that are always nagging you to play with your phone, we are sure you will want to know more.
Next, we can confirm that Nokia is working on a version of Nokia Drive+, which is in "alpha" state and Microsoft is working with Nokia to deliver a feature rich product that is certain to please Nokia owners and perhaps raise a bit of jealousy of other Windows Phone users. The Microsoft representative indicated that the features will have a wide appeal for developers and that means there will be all sorts of apps we can look forward to. Unfortunately, we were not allowed to dig any deeper than seeing the app.
Last but not least, Microsoft explains what they hope developers will take advantage of with the lock screen, and its accessibility to third-party apps in terms of content
and
notifications. The company envisions applications that will find appeal to users across a broad spectrum of services, and that means more choices and customization as well.
In short, Microsoft is putting a lot of energy into this roll-out. Steve Ballmer said that we are going to be hard pressed to find an ad space that
does not
highlight Windows 8 or Windows Phone 8. We have no doubts about that.
Check these out and tell us what you think.