Nokia Lumia 920 hands-on
41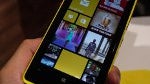 There you have it folks! The lid has finally come off, as Nokia
introduced its new line of Windows Phone 8 devices
, in one very soak fest morning in the Big Apple. Needless to say, the damp weather couldn't downplay the enormity surrounding Nokia's anticipated unveiling. Taking the show by storm, the
Nokia Lumia 920
is now all official with its
PureView packing super camera
!
As expected, the Nokia Lumia 920 follows in the same fashionable footsteps as previous Lumia devices, but this time, it's the
variety of colorful paint jobs
offered that's most compelling. Donning the same distinctive look and feel as before, the Lumia 920 takes the cake for being the most massive Lumia to date with its sizable girth. Despite that, the construction is exquisite, as expected, since it's employing the same
polycarbonate body
as before.
Part of the reason why it's so darn big, is because of the 4.5" PureMotion HD+ display it's packing along for the ride. Simply, it's a dreamy thing that complements the overall chic beauty of the smartphone. It's likable in many aspects, especially when it comes to maintaining its clarity in a variety of lighting conditions.
Above all, the single best feature of the Lumia 920 is the
PureView camera
it's packing in the rear! Rather than featuring the same 41-megapixel sensor used by the Nokia 808 PureView, it's instead carrying an 8.7-megapixel sensor that's gunning to be a revolutionary replacement. Furthermore, its "floating lens" technology enables it to absorb much more light – allowing the shutter to stay open longer. In terms of HD video capture, the floating lens continues to show its worth by providing stabilization to its recording. Naturally, we're salivating just thinking about its bountiful feature set, but we'll have to wait to see the final results for ourselves to pass judgment.
Behind the glitz and glamor, the Lumia 920 is powered by a
dual-core 1.5GHz Qualcomm Snapdragon S4 processor
with 1GB of RAM – making it one of the most powerful Windows Phones thus far. As expected, the
Windows Phone 8
experience is graced with fluidity and fast movement. Overall., it doesn't surprise us that it moves just like all other Windows Phones before it.
Well, as much as we'd like to proclaim that Nokia is finally rolling, it's a bit difficult to argue the point since no pricing or release date has been attached to it. Aside from the remarked specialties attached with its PureView camera, there isn't much else that's found for it to be downright compelling amongst the heap of other highly prized devices out there. Sure, the colorful paints jobs are a nice change of scenery, but overall, we've seen this device before – in the Lumia 800 and 900 before it.