Nokia Lumia 810 Hands-on
8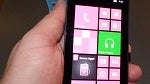 The
Nokia Lumia 810
was on-hand as well at Microsoft's Windows Phone 8 unveiling. This "same-but-different" cousin to the Lumia 820 and Lumia 822 has most of the same features we will be seeing across the 8xx series of Lumias. The notable difference for this model, which is bound for T-Mobile in November is that is does not support LTE connectivity, instead supporting T-Mobile's HSPA+ data. The Lumia 810 is also packing a slightly larger 1800mAh battery, versus the Lumia 820's 1650mAh unit.
The Lumia 810 also keeps a bit more of the squared appearance that the 820 has, a departure from the rounded and smoothed out Lumia 822 coming to Verizon. Appearances will appeal to everyone based on their individual tastes, none of these models are an eye sore in our opinion.
In terms of other specifications, this device shares the same 4.3-inch AMOLED display at 480x800 pixels, at 217 pixels-per-square-inch. The capacitive screen is very responsive and the hardware delivers on the Windows Phone 8 user experience with a swift, smooth flow of the interface, courtesy of the same dual-core Snapdragon MSM8960 processor found in all the new Lumias.
Again, due to the lanyard securing the devices, it was not possible to get a full impression as to how it felt in the hand. It certainly does not feel too big in any real dimension, but the Windows Phone 8 devices all have a bit more of a bezel than some of the new Android devices that have come to market, so it will boil down to personal taste. The hardware itself has the familiar Nokia Lumia set-up, with volume rockers, lock and camera buttons gracing the right edge of the device. Being a Nokia device, it is packing the nice Nokia apps such as Nokia Drive and Nokia Lens, but Microsoft is committed to having nearly all of the most in-demand apps available for Windows Phone 8 when these devices launch. The Lumia 810 will be released November 14th on T-Mobile USA.
Check out the pictures and video below. Do you like this rendition of the Lumia 8xx series better than the others?