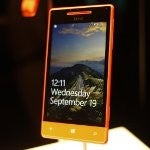 If high-end isn't your kindly thing, then the
recently announced HTC 8S
seems like it'll fit the bill, as it sports one compact figure and attractive design. Call it the
baby HTC 8X
, which it seemingly does, there are still many alluring elements about the smartphone to keep its bigger brother some company.
Sporting a very similar
boxy look from the front
, much like the 8X, the most notable thing about the design of the HTC 8S that differentiates it, is the painted strip that's located towards the bottom
edge
. Aside from that, we can clearly say that it employs all of the distinct and funky design characteristics of its elder sibling to make it a
pleasant looking offering
. Additionally, it helps that it's easier to hold in the hand thanks to its considerably more compact form factor. And lastly, you can't deny that the vivid color options available to the handset makes it stand out more.
Packing along a
4" WVGA (480 x 800) Super LCD screen
, it's nothing particularly impressive, but nonetheless, it's adequate enough to enjoy – especially when its color production is on the vibrant side. In the greater scheme of things, it would've been nice if HTC somehow blessed the handset with a higher resolution, since we're starting to see mid-range devices sporting qHD resolution. Then again, the lower resolution might help to lower its price point significantly over its fuller sibling in the HTC 8X, but still, it seems oh-so two generations ago at this point.
Underneath the hood, there's nothing that'll wow most people in this day and age, though, it's more than sufficient to handle all of the intricacies found with the Windows Phone 8 experience. Specifically, it's tucking away a
1.0GHz dual-core Snapdragon CPU with 1GB of RAM
, and with that in tow, it should provide enough horsepower to accompany most actions with instant executions. However, just like the HTC 8X on display at HTC's event, we're unable to check out its processing prowess seeing that we're limited to nothing more than checking out the Windows Phone 8 Start screen.
Rounding things out, this small bundle of joy packs
Beats Audio support
to deliver some engrossing tunes through its 3.5mm headset jack or internal speaker. Moreover, there's a 5-megapixel camera in the rear that features an F2.8 aperture lens – though, it's strangely
lacking a front-facing camera
for some odd reason. Certainly, it makes us wonder about the omission, especially when video chatting is increasingly being adopted by people.
It's quaint in size, but still attractive thanks to its clean industrial design. Sure, it's not a pencil pusher in the hardware department, but if it's able to commit to a smooth performance in all aspects, while maybe sprinkling a dash of cool features with its UI, maybe the HTC 8S might make itself a known figure in the mid-range category. Alas, pricing will no doubt dictate if it'll live or die – so let's cross our fingers and hope that HTC can somehow make it a tempting offer that's hard to refuse.