Windows Marketplace ads running on iPhone apps?
This article contains unofficial information.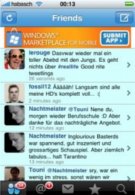 So how can Microsoft promote it's own Windows Mobile MarketPlace when it doesn't have a huge audience like what the App Store has with the iPhone? It looks like the software giant is paying their competitor by having ads run on some iPhone apps. One iPhone owner recently noticed a "Windows Mobile MarketPlace Ads" in his iPhone app and was able to take a screenshot of it. They might be taking this now a bit more seriously after considering how much money they can generate with their MarketPlace if they can manage to pull consumers in. Apple's App Store has been the flagship and premier driving force in that business segment with a strong grasp that's not looking to ease up anytime soon. It's a little bit interesting to see that Apple is allowing the competition to blatantly post ads in an attempt to gain notoriety – well if they're getting some cash out of it, then we guess they'll allow it.
via
1800PocketPC