Windows 10 update to build 14279 makes Surface Book, Surface Pro 3 and Surface Pro 4 freeze
28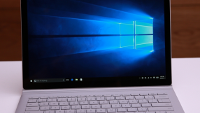 Well, we have some good news and some bad news for Surface Book,
Surface Pro 3
and
Surface Pro 4
users. The good news is that there is a new build of Windows 10, 14279, that has been released to Windows insiders in the fast ring. As you probably know by now, being in the fast ring means that you get first crack at using the latest OS build. It also means that you are more likely to find bugs than those in the slow ring, who don't receive the new build until it has been made stable.
The bad news is that Windows 10 build 14279 for the fast ring causes the Surface Book, Surface Pro 3 and Surface Pro 4 to freeze. Once that happens, you are unable to use the Type Cover keyboard, the trackpad, or the touchscreen. Microsoft does have a workaround. They suggest holding the power button down to force a hard-reboot.
"We're investigating an issue in which some Surface Pro 3, Surface Pro 4, and Surface Book devices experience a freeze or hang and all input such as keyboard/trackpad and touch do not work. The workaround is to hold down the power button to force the device to hard-reboot."-Microsoft
If you own the Surface Book, Surface Pro 3 and Surface Pro 4 and are affected by this freezing issue, know that Microsoft is aware of the problem and is investigating it. Hopefully, a fix will be pushed out in the not too distant future.
source:
Microsoft
via
MSPoweruser