Will you be getting an iPhone SE for yourself or a loved one? (poll results)
38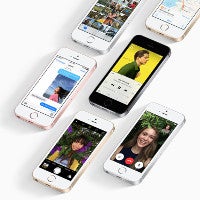 If you were keeping updated in the weeks prior to Apple's March 21st event, you were likely well aware that the company was, supposedly, gearing to announce a
sort of new
iPhone—the iPhone SE. Short for Special Edition, the iPhone SE really is a non-standard addition to Apple's portfolio, what with its literally identical iPhone 5s design, but iPhone 6s-level internals.
It's a strange proposition, and one aimed at current 4-inch iPhone users, or ones still in love with the edgier, more rectangular designs of old. And at "just" $399 for the 16GB model, the iPhone SE is on the affordable side for quite some people, making it a potential binge buy—whether for yourself, or as a giftie for a loved one.
According to the results of
one of our latest polls
, our readers (predominantly Android users, which is an important takeaway) are mostly uninterested in the iPhone SE, with 73% claiming Apple won't see a cent of their money. On the other end of the spectrum, we've got about 19% who're outright interested, and a little over 8% who are considering gifting an iPhone SE to a loved one.