Which one of the fall flagships would you get?
99+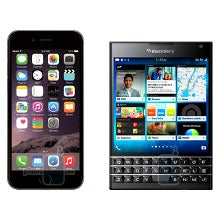 The fall flagship announcements are almost winding down, and about the only thing we are waiting on now would be that eventual
Google Nexus 6/X
line heir, which rumors
peg to be with a 5.9" display
. Samsung commenced the holiday mobile shopping rush with the
Galaxy Alpha
and the cult
Note 4
/
Note Edge
announcements, then Sony immediately took the torch with the excellent
Xperia Z3
and
Z3 Compact
. From the Chinese mobile-fu masters, Huawei chipped in at the IFA expo with the svelte
Mate7
, while Motorola managed to sneak in the intriguing Moto X.
At that time, all eyes were already on Apple, and the Cupertino gang didn't disappoint, churning out the biggest redesign in the iPhone line history - literally. Last but not least, BlackBerry staged somewhat of a resurrection with the unorthodox
Passport
flagship, that is the highest spec'd BlackBerry ever created.
It's never been easy to chose a top-shelf smartphone, but in the last year or so the competition really heated up, and the market is not exactly the Samsung-Apple duopoly it was any more, despite that those two are still reaping the lion's share of its benefits. That is why we wanted to ask you which of these fall juggernauts are you planning to get, if your contract expires soon, or if you are simply on the market for a new high-end. Take your pick in the poll below, and tell us why did your choice fall on that particular piece of equipment.