Waze updated with Google Search for Android and iOS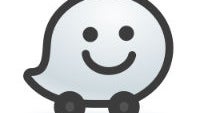 Last week we heard that Google and Waze were starting to mix together products. Google had added
Waze accident reports
to Google Maps, and now Waze has been updated to bring some Google to the app. Waze for both Android and iOS has been updated to put Google Search front and center in the user experience.
The Waze app now has put the search bar on the main map page, across the top. And, of course, the search functions now run through Google, so you'll get better results, faster. Additionally, the map has been cleaned up a bit, so places don't show up until they hit a certain distance, and similar results are grouped together to remove clutter.
The Android app has also gotten support for 1080p screens, while the iOS app has had a Sleep mode added, so Waze won't completely shut down, and it'll be easier to resume navigation. Of course, both platforms have the requisite optimizations and bug fixes.