Want to have a successful mobile advertisement campaign? Just pick the best platform
14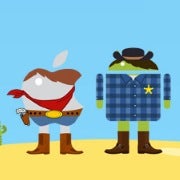 inneractive
will make the choice easier by putting Apple's iOS and Google's Android side by side and comparing the effectiveness of the ads displayed on either one of the platforms.
According to the data provided in the infographic, advertisements displayed on Android devices have a higher global fill rate (or in other words, they have a higher chance to get displayed) in comparison to those that pop up on iPhones and iPads. However, iOS users are more than twice as likely to click on an advertisement, which is among the reasons why developers for Apple's mobile platform are able to rake in higher revenues per every thousand impressions displayed in their apps.
It is also worth noting that Android apps have a higher life span on average than the ones made for iOS. However, iOS applications reach their prime time almost twice as fast, meaning that your advertisements are likely to reach a significant amount of the targeted audience in a much more timely manner.
More details are included on the infographic itself, so if you are curious to learn more, feel free to check it out.
source:
inneractive