Wall Street firm sees regulatory approval for T-Mobile-Sprint merger by mid-2019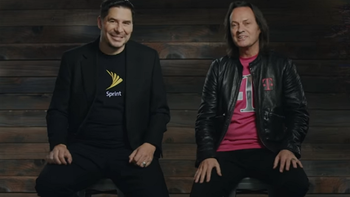 Analysts at U.S. brokerage house Cowen appear to be bullish on the prospects of the T-Mobile-Sprint merger getting regulatory approval,
according to Fierce Wireless
. The securities firm expects the required approval from the FCC and DOJ to occur before the middle of next year, which dovetails with the time period that T-Mobile has said that the deal will close by.
T-Mobile's low frequency spectrum combined with Sprint's hoard of high-frequency spectrum was one topic that the analysts covered in a letter to clients. Both carriers combined would have a spectrum portfolio of over 300MHz, larger than the inventory belonging to Verizon and AT&T. The Cowen analysts noted that this would allow the merged wireless provider to "1) deliver data at a competitive cost per bit, 2) expand into new areas including FWBB/OTT (video) and 3) form partnerships with others who want to utilize its network including cable MVNOs."
"We expect the DOJ/FCC to wrap up their review of the deal in early April and note that the 180-day FCC shot-clock will also end around this time. Post close, we expect mgmt. to reaffirm the guidance that it has already provided although we believe the guidance is fairly conservative and believe the company ultimately should be able to delever to <2.0x faster than the 3-4 years it has stated. In addition, we expect the company to begin offering a wireless OTT video service in 2019, begin rolling out FWBB in late 2019/2020, and potentially sign a partnership agreement with a cable company for an MVNO"-Cowen
Recommended Stories