WSJ: No Touch ID for iPhone 8, but a new facial-recognition feature might be embedded
99+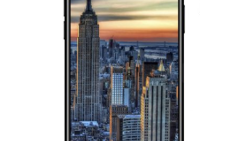 We're less than a week away from
Apple's big launch event
and we're still overwhelmed by the sheer number leaks that supposedly depict one or more of the three iPhones that are expected to be unveiled on September 12.
Wall Street Journal
has it from trusted sources that Apple dropped the idea of including a fingerprint sensor in the new OLED display. After deciding to do away with the physical home button, it tried to put the Touch ID function in the display.
Unfortunately, the attempt proved more difficult than Apple initially thought, so the idea was eventually abandoned due to the approaching deadlines. Instead, the
iPhone 8
will allow users to unlock it using traditional methods like a password.
However, sources with knowledge of Apple's plans say Apple is expected to add a new facial-recognition feature that will replace the fingerprint sensor.
These attempts to embed the Touch ID in the display led to some delays, so production was put back by about a month just for this reason. iPhone 8's production was further delayed after Apple decided to include
OLED screens
into its new phones, similar to those used by Samsung.
Unlike the OLED displays made by Samsung, those produced in Vietnam by an affiliate of Samsung Electronics specifically for the iPhone 8 have the touch panel outside the screen.
Moreover, the iPhone manufacturing process is more complex and involves more steps and layers of adhesive and protective film as opposed to Samsung's manufacture process, which makes it more prone to errors.
Recommended Stories