Report: Apple orders 70 million OLED screens; 3D face recognition confirmed for iPhone 8
99+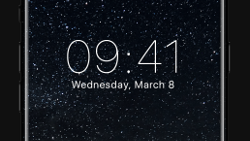 Note:
The thumbnail image to the left is an Apple iPhone 8 concept created by graphic designer AlHasan Husni
Just yesterday, we told you that
Samsung will be spending $8.9 billion to expand production of OLED panels this year
, with Apple the likely beneficiary of this spending. Today, a report from Japan's Nikkei news agency revealed today that Apple has ordered 70 million OLED panels from Samsung for use in 2017. The 10th anniversary iPhone model, dubbed the
Apple iPhone 8
, is expected to be the only handset from Apple using OLED this year. As a result, we can deduce that Apple expects to sell a huge amount of iPhone 8 handsets over the holiday quarter.
During the same period last year,
Apple sold a record 78.3 million handsets.
This means that a new record number of quarterly iPhone sales could be made during the calendar fourth quarter this year. In preparation of extremely heavy demand for the model, Samsung is ready to deliver as many as 95 million OLED screens to Apple. The information comes from a source in the iPhone supply chain. According to David Hsieh, a senior director at research company IHS Markit, Samsung will be the sole supplier of OLED displays to Apple. In addition, as previously mentioned by KGI Securities' reliable Apple analyst Ming-Chi Kuo, the other two iPhone units expected this year (
Apple iPhone 7s
and the
Apple iPhone 7s Plus
) will stick with LCD screens. Next year, all Apple models will be using OLED screens, according to Kuo.
The report published by Nikkei also confirms Kuo's earlier comment that
the iPhone 8 will feature a "revolutionary" front-facing camera
.
This camera will employ 3D facial recognition technology that will allow it to unlock the phone and verify identification. The supply chain source also said that the iPhone 8 will not have a home button although the other two 2017 models will. We previously told you to expect the unit to carry a 5.2-inch active screen with an area measuring .6-inches that will be used for virtual controls and possibly an embedded version of Touch ID. The iPhone 8 will not be cheap as speculation has
Apple pricing the handset above $1,000
.
Yuanta Investment Consulting's Jeff Pu estimates that Apple will sell a record 100 million new iPhone models in 2017 with 55 million coming with an OLED display. Others expect that all three of the 2017 iPhones will support wireless charging and will be IP68 certified for dust and water resistance.
Apple should unveil its new 2017 iPhone lineup in September.
source:
Nikkei