Verizon is pushing out limited software update for Motorola Droid 2
2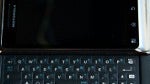 Verizon is pushing out a software update for Motorola Droid 2 users, with a majority of the improvements coming in the performance area of things.
Unfortunately, since this is a limited update not all users will receive this update during the first push. For those lucky enough to get the update, here is the list of improvements you can expect:
• Improved battery life.
• Heightened proximity sensor accuracy to enable faster screen response.
• View the Weather widget in both landscape and portrait orientation.
• Simpler setup, improved user interactions, and better notifications for Visual Voice Mail.
• Background Email Sync during display inactivity for better user experience.
• Support for email domain suffixes containing more than three characters.
• Keep text messages organized with chronological in-box screen.
• Edit text messages after you've inserted a video file.
• Improved audio sound during recorded video playbacks.
• Stream Guided Tour videos on device in Help Center application with ease.
• Faster location tracking during GPS navigation.
• Faster transitions between Wi-Fi and 3G in data connection.
If anybody out there that has received this update happens to be reading this, please let us all know how it is working out for you. We would all love to see if this update does all that it says.
source:
Android and Me