Verizon confirms new Moto X and Moto Maker coming tomorrow, September 26th
7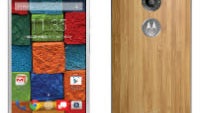 The rumors have been right all along it seems. AT&T got its timed exclusive on the
new Moto X
and Moto Maker (which turned out to simply be the pre-order period.) Now, Verizon is finally getting in on the new Moto X, and it appears the device will also be available in stores, starting tomorrow, September 26th.
In stores, you'll have a choice between the black model or the white with a bamboo back. Each will cost $99 with a two-year contract, which is the normal price for the black model, but it is a limited time special on the bamboo model, which would normally cost $124. Users will also have the option to fully customize a Moto X for Verizon via the Moto Maker website. The Moto Maker site is estimating 12 days to get a customized Moto X ordered right now, though it should be noted that the site is saying that white front devices are currently on backorder, and won't ship for 4 weeks.
The Verizon Moto X will be XLTE compatible, and will otherwise be the same as the device on any other carrier, which is to say, it is one of the best Android devices on the market right now. Who is planning to get a Verizon Moto X?