Verizon adds more cities to their mid-december LTE rollout
28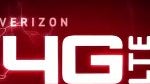 Verizon was expected to add only a couple cities to their 4G LTE coverage map on December 15, but a new announcement has multiple cities pegged for a launch on the same date extending Verizon's LTE lead.
Verizon is creeping towards 200 cities covered with this latest LTE rollout announcement. The cities that will have their skies lit up with the 4G LTE service are found in New York, Massachusetts, New Hampshire, Georgia and Delaware.
In New York the cities of Clintondale, Fishkill, Hyde Park, Kingston, New Paltz, Platekill, Poughkeepsie, Red Hook, Rhinebeck, Saugerties and Wappingers Falls will be getting the LTE love. Further north will see the towns of Fitchburg, Leominster, Lunenburg and Townsend, Massachusetts get blanketed with LTE while Greater Manchester and Nashua, New Hampshire will be getting their own serving of 4G.
Residents of Dover, Delaware will also be able to take advantage of Verizon's blazingly fast network on December 15. Down south, Skidaway, Whitemarsh, Tybee Islands-Wilmington, Garden City, Rincon, Springfield, Guyton, Pembroke, Richmond Hill, Midway, Hinesville and Savannah, Georgia will all be given the 4G LTE treatment.
Verizon most definitely means business with their expansion of their 4G coverage. With several 4G capable devices on their network and AT&T's recent launch of their own LTE network it is easy to see why. December 15 will most likely be the last day of 4G expansion from Verizon Wireless for the year. Surely they must have big plans for 2012.
source:
Phone Scoop