Verizon FiOS On Demand launches a video streaming app for the Apple iPhone and iPad
1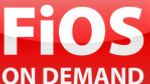 After offering users of the Apple iPhone and Apple iPad nothing but remote control apps, Verizon has answered the calls from customers by launching an app for both devices
that streams video
. Any content that its IPTV users can request on demand is now available to be streamed to those iPhone and iPad users running iOS 4 or higher. While Apple's rules prevent users from buying a video over the app, user are allowed to view videos bought elsewhere, or rented.
The same Flex View system that is used on the
app available to Android owners
is used in the iOS version, and can support up to 4 devices. While Apple iPad owners will be able to stream the video from the service, the only Android tablet that supports this app is the 7 inch Samsung Galaxy Tab, which uses Android Gingerbread for its OS instead of Honeycomb.
source:
electronista