Valentine's Day 2018 tech gift guide: here's what to get for your significant other
9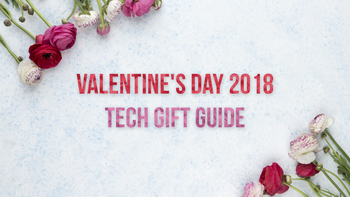 Hey there, lovebirds! Looking to get your significant other something nice for Valentine's Day? Great! Selecting the right present for your sweetheart can sometimes be a daunting task, but fret not, you've come to the right place.
In order to help you in your gift-selecting endeavors and potentially save you from an awkward situation, we decided to round up some notable tech gifts that you can give to your better half. We really hope that you'll like them and make someone very happy on February 14th!
1. A stylish phone in the colors of love
Various studies have concluded that due to one reason or another, women are biologically predisposed to prefer the colors red and pink more than men. Who are we to get into arguments with science? This Valentine's day, you can earn lots of points with your lady by getting her a stylish and elegant smartphone that will complement her looks! Here are our recommendations:
Any Gold or Rose Gold Apple iPhone
Price: $699-$949
Sony Xperia XZ1 Compact in Twilight Pink
If the woman of your heart has a liking for the Android ecosystem, we have an interesting proposition. Picking a Sony phone as our top Android recommendation might puzzle some of you, but the Xperia XZ1 Compact has a number of traits that make it suitable for girls.
Red Honor 7X
If you're on a budget, look no further than the Honor 7X. At $199, this phone ticks nearly all the right boxes - it features a 5.93-inch FHD screen, a metal design with small bezels at the front, adequate performance, and a main dual-camera system with Portrait Mode. Last but not least, Honor will soon release a limited edition of the phone in a stunning shade of red.
2. Cute wearables
Granted, the word "wearable" might not scream romantic, but there are a few of these smart accessories that are quite discrete and elegant. Here are a couple of recommendations that fit the bill:
Motiv smart ring (for iOS only)
Price: $199
The Motiv Ring is one of the most discrete and unobtrusive wearables that you can get for your lady. It's a very slim and lightweight device that features 24/7 activity and sleep tracking, an optical heart rate monitor, water resistance up to 50m or 165ft, and three-day battery life. It's available in 7 sizes and in a stylish Rose Gold finish, but keep in mind that the ring is only compatible with iOS. If there are any Android users who'd like to get the Motiv ring, an adaptation for Google's platform should arrive in Q2 2018.
3. A trendy smartwatch
If you are considering getting your girlfriend a fitness tracker, why not step your game up and get her a feminine smartwatch instead? There are multiple manufacturers that offer feminine versions of their timepieces, and most of these look rather sleek - perfect!
LG Watch Style
This is a less expensive alternative to the Apple Watch Series 3. The LG Watch Style is powered by Android Wear 2.0 and is one of the thinnest watches you can find on the market. The device looks quite stunning in Rose Gold, and, thanks to Android Wear 2.0, it's compatible with both Android and iOS.
4. Nifty gadgets/accessories
Last up, we've lined up a few nifty accessories that can complement your girlfriend's style and the tech she already owns. Let's check them out:
Stelle Mini-Clutch Speaker
This gadget is quite multifunctional - it's a clutch purse with a mirror that can carry your girl's essential makeup, but it's also a wireless Bluetooth speaker that delivers surprisingly powerful sound. You also have a built-in speakerphone for hands-free calls, an aux-in jack, and a USB port that allows for the charging of a mobile device in emergency situations.
HP Sprocket Photo Printer
The HP Sprocket Photo Printer is a neat little photo printer that can instantly print out 2 x 3-inch (5 x 7.6-cm) quality photos. It's about as big as a cell phone and weighs in at around 6 ounces (170 grams), making it super portable. The Sprocket doesn't use any ink, and the included 10-sheet pack of paper is sticky-backed (we suggest grabbing an extra pack of 20 sheets). The printer is compatible with both iOS and Android, and you can edit and print photos through the HP Sprocket App.
A nice pair of touchscreen gloves
Now, there are a lot of different styles and brands of gloves out there, but one type that we would recommend comes from Warmen. These gloves are made from genuine Nappa leather and look quite stylish. You have touch point control areas on the thumb and index fingers and the gloves even arrive in an elegant gift box. Not too bad for $28, eh?
1. A burly smartwatch
Ladies, if your man likes to work out and/or is tech-savvy and finds classic watches lacking in function, then getting a nice big rugged smartwatch for him could be the perfect gift. Here are our top two suggestions:
Samsung Gear Sport
Price: $297
Apple Watch Series 3
2. A nice case
Phones are fragile things, and men aren't creatures typically known for their carefulness. Such a dangerous combination often leads to broken screens, dented frames, and other types of unpleasant damage. Here are a few case recommendations for some of the more popular devices out there that will keep them safe and sound:
4. A manly phone
If buying a smartwatch or accessory for your significant other doesn't seem like a glamorous proposition, then why don't you get him a new phone? Something big and classy is your best bet. Here are our top 3 picks:
Samsung Galaxy Note 8
Apple iPhone 8 Plus or iPhone X (preferably in Space Gray)
LG V30
LG's best phone so far, the V30 features a stylish glass and metal styling, an edge-to-edge screen with no annoying notch or any other interruption, and a dual camera system with a super wide-angle camera that's unlike any other phone. The V30 is a phone that will make the most demanding techies happy: it has a high-quality audio output to make your expensive headphones pump out sound to their maximum, and it has manual video recording capabilities that will make enthusiast videographers happy.