Updated and new Bing apps to sync data between Windows Phone and Windows 8
10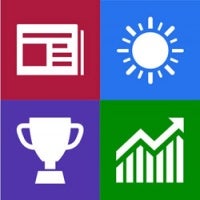 We've been waiting on more of the convergence features that have undoubtedly been in the works for Windows and today we're getting a big look at what Microsoft wants for its platforms. Microsoft pushed out updates for 4 different Bing apps and released 3 all new Bing apps (new for Windows Phone at least), all of which offer a great new feature: synced data between Windows Phone, Windows RT, and Windows 8.
Bing News, Finance, Weather, and Sports have all been updated; and, Microsoft has released all new Bing Food & Drink, Travel, and Health & Fitness apps for Windows Phone. After grabbing the new apps, or updating the existing ones, you will be able to sign in with your Microsoft account and have your data sync between platforms. This means that your Finance accounts will automatically follow you, as will your favorite teams in Sports, locations in Weather, and the topics you follow in Bing News.
The new apps are pretty interesting as well. Food & Drink pulls together recipes from AllRecipes, BigOven, Epicurious, Bon Appetit, Saveur, Food52, and more. This means over 600,000 recipes that you can save and set up shopping lists for the ingredients you'll need (all of which will sync between devices). The Health & Fitness app combines a Diet Tracker, Cardio Tracker and GPS Tracker so you can keep an eye on your nutrition and exercise. The Travel app lets you plan, book, and manage flights and hotel reservations, and even pin flight info to your Start screen.
Overall, an impressive set of apps with quite a bit of functionality.