Two new recipe apps hit WP7, and so does the WeightWatchers app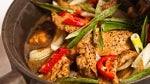 Good news for foodies (and those attempting to ward off the negative effects of food) there are solutions for you in the Windows Phone Marketplace. Official apps have just hit for Epicurious, Betty Crocker and Weight Watchers.
Epicurious and Betty Crocker are the official recipe apps. Epicurious features over 30,000 recipes, including professionally created recipes from Gourmet, Bon Appetit, chefs and cookbooks. Epicurious also has hundreds of thousands of reviews on their recipes, so you can find out what works and what doesn't. Betty Crocker tends to go more towards family style meals, but there are still a lot of good meals to be found there as well.
Once you've found the best recipes and gorged on the best flavors from around the world, you can also grab the Weight Watchers Calorie Counter app, and realize that you probably need to jump on a treadmill for a couple hours. The Weight Watchers appis an easy way to count calories, and keep track of the PointsPlus values for your Weight Watchers program. It does look as though the Weight Watchers app does require a Weight Watchers Online account.
The best thing about all of these apps is that they are official apps. It's good to see devs bringing their popular apps to WP7 and build up the ecosystem.
Epicurious Zune link
Betty Crocker Zune link
Weight Watchers Zune link
Recommended Stories