Treo 650 to be available from Verizon Wireless on May 11, 2005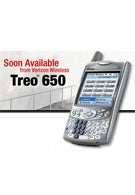 PhoneArena does not usually engage in distributing rumors, but the information we received seemed coming from a credible source, so we decided to post it. According to the tip we've received, the long anticipated launch of the Treo 650 smartphone from Verizon Wireless will happen as soon as May 11, 2005 for Business customers. Retail and Internet sales will start on May 23rd, 2005. Currently, the CDMA version of the device is offered by Sprint PCS, while the GSM version is available from Cingular Wireless.
Earlier this month Verizon Wireless created a special page on their vzwshop.com webpage which contained some information about the upcoming launch. The disclaimer at the end of the page stated that the Verizon's version of the Treo 650 will not support the DUN Bluetooth profile, meaning that you will not be able to use it as a wireless modem for your laptop for example.
The prices are expected to be in the following range:
No Contract - about $529.99
1 year contract - about $449.99
2 year contract - about $399.99
Treo 650 (CDMA version) specification