Three new iPad Pros expected in spring 2017 with two new sizes
21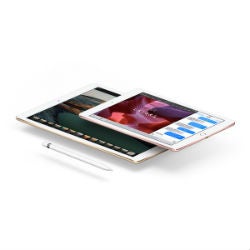 While the fall is Apple's time for new iPhones, software and Watch hardware, the spring is when Apple tends to update its iPad lineup and 2017 looks to keep up that tradition. Interestingly, the rumors are claiming there will be three new
iPad Pro
models in early 2017, including two new sizes for the Pro lineup.
The rumor says early 2017 will see an update to the original 12.9-inch iPad Pro as well as a new iPad mini that joins the Pro lineup. The odd part of the rumor is that the "standard" iPad Pro will get a slight bump from a 9.7-inch screen to a 10.1-inch display. But we'll believe that when we see it because it is unclear why Apple would make that change after such a long time, especially since the rumor claims the 10.1-inch iPad would be larger than the 9.7-inch iPad. It would feel more believable if we heard Apple was packing a bigger display in the same form factor by reducing bezels.
The entire iPad Pro lineup is expected to include the quad-speaker/quad-microphone setup, 3.5mm headphone jacks all around, a 12-megapixel rear camera, and True Tone display tech. Apple is also supposedly working on Smart Keyboard add-ons for each size iPad Pro.
No word on a specific date of an announcement or release, but March/April 2017 is probably a good bet.