The iPhone 3GS will be able to run games based on Unreal Engine 3
This article contains unofficial information.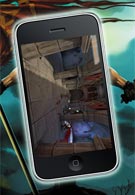 Epic
is the company behind games like Unreal and Gears of War and of course, the developer of
Unreal Engine 3
that has brought to life a myriad of popular titles. We´ve got great news for all fans of mobile gaming, because Epic has showcased a technological demo of a title based on the very same graphics engine, but running on the
iPhone 3GS
and able to utilize OpenGL ES 2.0. Take a look at the video below and see for yourself - the game plays perfectly smoothly and looks pretty well indeed. The company also stated they would showcase another software project at CES 2010, apparently for games based on the same engine and designed for a different mobile platform, but we still don´t know anything about it.
There is more than enough time until Epic embarks on any licensing scheme for mobile game developers, but we believe that titles for the iPhone based on Unreal Engine 3 can give the Sony PSP and Nintendo DS a pretty good run for their money. We do hope to see relevant hardware controls soon as well, because virtually all iPhone gamers complain about that annoying problem of the phone screen getting hidden behind their fingers while playing.
source:
Gizmodo