The Samsung Galaxy S6 got stripped apart, and replacing its battery is not for the faint-hearted
46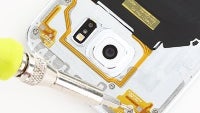 Device teardown website MyFixGuide published a set of photos exposing the Samsung Galaxy S6's inside job. Not surprisingly, Samsung's flagship looks as good on the inside as it does on the outside!
Although the new metal and glass build certainly makes teardowns and repairs more challenging than removing the plastic backs of older Galaxy smartphones, it's no match for an enterprising technician with a heat gun. 2-3 minutes of warming up the smartphone makes it possible to take the back panel off.
Contrary to previous reports, the battery isn't directly accessible, or easily removable at all. One must remove the middle frame first, then take out the NFC chip and unscrew the motherboard in order to get a shot at replacing the battery. It is a 3.85v 9.82wh 2550mAh li-on unit, and we're very curious if this capacity is enough to ensure a long battery life for the GS 6.
The technician also noted that the camera module has been equipped with a fixed base to help against producing unwanted jitter.
There isn't much more in the way of notable details, but the Galaxy S6 does seem well put together. You can also check out a pretty shot of the Exynos 7420 SoC, commander in chief of the Galaxy S6's processing department.
source:
MyFixGuide