The Moto Z confirmed to get monthly Android security updates
4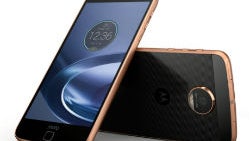 Android updates are always something of a sticking point when choosing what device to buy. If you're hoping for timely software updates, you have to be careful what device you choose and there was some early buzz claiming that the Moto Z would not be getting the monthly security updates that Google releases for Android, but that appears to be wrong.
The misunderstanding came from the
Ars Technica
review of the new Moto Z and Moto Z Force in which it was claimed that Motorola had said it wouldn't be releasing security patch updates. This caused concern because the devices are set to ship with the May Android security patch. However, Motorola has confirmed that this is incorrect and the devices would be supported with the latest security patch updates, including pushing out the July Android security update soon after the Moto Z and Moto Z Force are released to consumers on July 28th.
This is obviously good news for those who are interested in the new Moto phones. Of course, as long as you're careful with your phone, you shouldn't have too many security risks. Don't sideload apps from untrusted sources, don't mess with shady emails, and you should be all right.