The Galaxy S5 LTE-A, the Amazon Fire Phone, and T-Mobile's Un-Carrier 5.0: weekly news round-up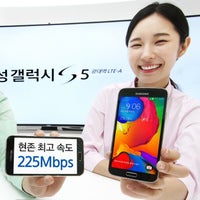 Announcements, announcements, announcements - we had a whole bunch of them last week, and in case you missed any of them, now's the time to catch up. For starters, Samsung announced its latest super-awesome smartphone, namely the Galaxy S5 LTE-A. It is packed with a Snapdragon 805 SoC, a
5.1
-inch Quad HD Super AMOLED display, and 3GB of RAM - specs that place it right on top of the Android food chain. The bad news, however, is that you can't buy one, unless you happen to live in South Korea.
The Amazon Fire Phone, on the other hand, is a phone that will be available in the US, albeit only from AT&T. Amazon's first smartphone stands out with its unique 3D-like interface, front-facing stereo speakers, powerful hardware, and premium services provided by Amazon itself. But unlike the retailer's tablets, the Fire Phone won't be dirt cheap. Pricing is set at $199.99 on a 2-year contract.
In other news, T-Mobile announced the next phase of its un-carrier initiative. Anyone interested in using T-Mobile's services can now test-drive the T-Mobile network for a period of 7 days, and the carrier provides them with an iPhone 5s to use during the trial.
For further details and more popular news from last week, check out the slideshow below!