Testing Qik for Android
0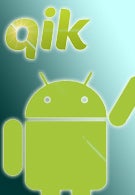 For those of you who don´t know about Qik
This is an app that allows you to broadcast live video footage using your cell phone. Live stream gets directly published onto your
Qik account
and can be later shared on facebook, twitter, YouTube, Blogger, Wordpress, livestream, 12seconds, seesmic and tumblr. The app is compatible with variety of cell phones, running Symbian, Windows Mobile, JAVA and as of recently,
Android
. You can find a list of all supported devices
here
. The necessary source code to place the Live channel on your own website (showing live stream or the last captured video) can be obtained from your personal account, plus you are permitted to hide, delete or share videos with the other services we mentioned above.
Qik + Android
The Android version of the app is an early alpha and can be downloaded completely
free of charge
from
Android Market
. To make good use of all its functions, you need to run it on v1.5 of the operating system, because otherwise you won´t be able to capture videos. In our tests we used the
T-Mobile G1
and
Wi-Fi
to connect to the Internet. Developers of the app explicitly warn that you better get an unlimited data plan if Wi-Fi is not available, because sharing video content on the Internet entails multi-megabyte traffic.
Do keep in mind that video is captured in landscape only and try not to twiddle the phone too much, so as not to make people who will watch it seasick. Videos are stored in .3gp and G1 allows shooting with
CIF
resolution (352x288 pixels). Qik also seems to decrease the number of frames per second based on your internet connection speed.

Quality and conclusion
Qik is really an extremely easy and pleasing app that allows people to broadcast live video streams and experience what it is to be a reporter by using just their own cell phones. During our tests we found out that the delay between the exact time of video capture and the precise moment content appeared online was less than 10 seconds and image quality was slightly worse than what we got with the camera directly on the phone. Basically, this means that video quality is rather low on the overall, because the G1 is not exactly famous for its stunning video capabilities. Our major gripe is that recorded sound is not loud enough and we couldn´t really make out what people were saying and now our plans for live interview feeds lie in ruins. Having seen Qik videos uploaded by other users has convinced us that much better results are obtainable by using other cell phones. Let´s hope that other Android devices capture content with better quality and that increased resolution is supported by Qik if available on the particular cell phone.
Despite the low quality that we found out is due to the G1 itself (primarily, sound quality), we do need to give credit where credit is due and tell that the application itself is great. It allows you to go live and share interesting moments with friends and relatives that happen to be away. And, isn´t this what the Internet is all about? Bringing people together, no matter the physical distance. We do recommend that you have a go at this, it´s tons of fun.