Telefónica allegedly cleans inventory to welcome the next iPhone September 12
2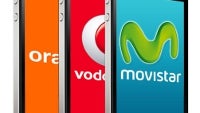 A tipster from Telefónica, the parent company of Movistar, which operates as the largest carrier in Spain and is also present in many Latin American countries, has spilled some beans regarding the launch date of the next iPhone at the carrier.
The source claims that there are plans to dwindle the current iPhone stock after August 22 for three weeks, which is usually done in preparation for the launch of a new model. While rumors have been pointing at a
September announcement for the next iPhone
, with a wider October availability for while now, he actually mentions a firm date, and it is September 12.
Apple is usually holding an annual iPod event Tuesdays or Wednesdays after Labor Day in September, so that could be the venue where it will announce the iPhone's next iteration. Its announcement-to-launch timeframe is also usually very short, so September 12 sounds as probable of a date as any for the new stock to appear in Movistar's portfolio.
source:
Engadget