TCL exec hints at game changing BlackBerry QWERTY keyboard to be unveiled at CES?
35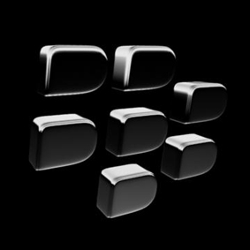 The other day, we told you that
TCL was going to be designing, manufacturing, selling, promoting and handling customer service for BlackBerry's new handsets
. Considering that the
BlackBerry DTEK50
and
BlackBerry DTEK60
are both actually re-branded TCL related phones (the former is the
Alcatel Idol 4
and the latter is the TCL 950. Alcatel is a joint venture between TCL and Alcatel-Lucent), this is a process that has already begun.
BlackBerry CEO John Chen has said that he would honor his promise to release one last home-grown model sporting a physical QWERTY keyboard. And while
images of a phone called the BlackBerry Mercury
have been disseminated, something more exciting appears to be on the way. First of all, some of TCL's Twitter accounts have been using the hashtag #TheNewBlackBerry along with the image that you'll find in the slideshow. And secondly, a cryptic tweet from Steve Cistulli, the President and GM of TCL Communication in North America, has plenty to say between the lines.
Cistulli's tweet might not mean much to the ordinary Joe. "Remington No. 2 of 1878 #TheNewBlackBerry" reads the message. The kicker here is that the Remington No. 2 was a game changing typewriter produced in 1878. It featured a QWERTY keyboard and a Shift key. Why mention such a game changing QWERTY unless you have one of your own on the way?
source:
@SteveCistulli
via
Crackberry