T-Mobile starts shipping the Samsung Galaxy S8 one week early
39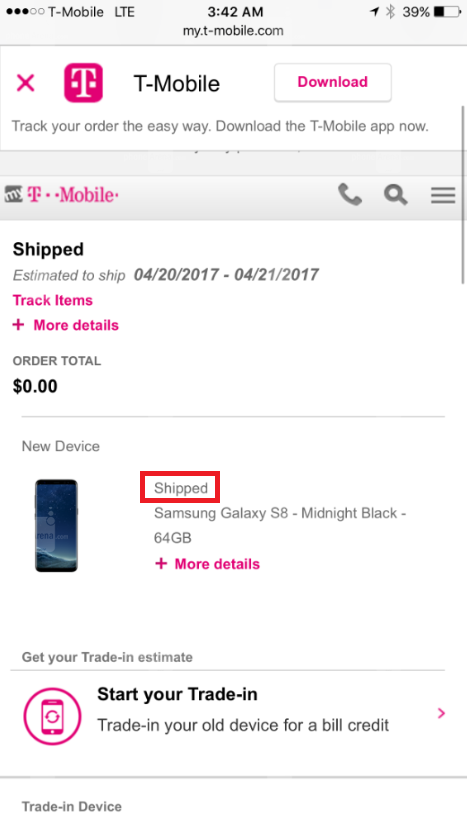 T-Mobile has already started shipping some Samsung Galaxy S8 pre-orders
A couple of days ago, we told you that
T-Mobile planned to start shipping pre-ordered Samsung Galaxy S8 units on April 19th
, two days before the phone is officially launched in the U.S. But as it turns out, one of our loyal Phone Arena readers has received a notice from T-Mobile telling him that his Midnight Black
Samsung Galaxy S8
has been shipped. Any one receiving a similar message should notice that the price of the phone they pre-ordered has been added to their credit card balance.
Not wanting a repeat of the
Samsung Galaxy Note 7
fiasco, Samsung unveiled the Galaxy S8 and
Galaxy S8+
a month later than it normal would have. Instead of introducing the handsets at MWC in February, Samsung whet the appetite of consumers by
releasing a video hinting at the new design
for its flagship models.
At the beginning of this week, Samsung announced that U.S. smartphone buyers have been enamored of the Galaxy S8/S8+ and have been showing their love by
pre-ordering the new models in large numbers
. Even though the new units are more expensive than last year's flagship handsets, pre-orders for the Samsung Galaxy S8 and Samsung Galaxy S8+ are showing strong double-digit growth compared to reservations placed for last year's
Samsung Galaxy S7
and
Samsung Galaxy S7 edge
. Some time after the two new phones launch on April 21st, Samsung will no doubt pass along the number of pre-orders it received for both models, which we will pass along to you. Early indications show that the 6.2-inch Galaxy S8+ has been more popular than the 5.8-inch Galaxy S8.
Meanwhile, if you were lucky enough to receive notice that your Galaxy S8 is en route, you'll be happy to know that it won't be long before you're enjoying your new handset.
Thanks for sending this in!