T-Mobile says ICS coming "very soon" for HTC Sensation 4G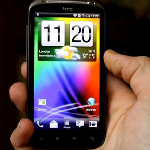 It was almost two months ago that
international versions of the HTC Sensation and Sensation XE
started seeing the rollout of the Android 4.0 Ice Cream Sandwich update, and it looks like it's finally making its way to T-Mobile as well. We just heard earlier today that the HTC Sensation 4G for T-Mobile got a nice
price drop all the way down to free
, so this might be a pretty solid pickup.
T-Mobile's support page for the HTC Sensation 4G was updated today to say:
The Android 4.0 (ICS) update for the HTC Sensation 4G has completed its testing process and we expect it to be available very soon. Please stay tuned for an official communication from T-Mobile regarding how and when you'll be able to receive the update.
This is pretty solid news, since it had been rumored that this update wouldn't be coming until mid-June. A free phone with ICS is sounding like an even better deal than it did earlier, so if you're in the market for a budget device from T-Mobile, this may be a good option.
Still, given that the international variants had this update almost two months ago, it does seem to show that carrier testing is the number one cause for Android update delays.