T-Mobile planning on stopping future investments on @Home service?
This article contains unofficial information.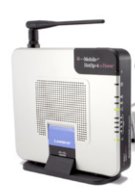 There are just some services that catch on with consumers which can result in profitable financial gain, but then there are some that spiral down to oblivion. With that in mind, it looks more likely that T-Mobile will discontinue their @Home service due to the carrier not making a profit off of it. TmoNew's cites a trusty tipster who confirms that future investments in the @Home service will halt – while current customers will continue to use it and will not be affected. Just as a refresher, the T-Mobile @Home service was available on most wireless service plans for a decent $10/month rate and allowed owners to place phone calls through a T-Mobile branded router that's connected to the internet. It may not have caught on, as T-Mobile would've expected, so now it looks like they will continue to sell leftover inventory to customers. Perhaps it would've continued living if only they sold more of the service – alas, it's going by the way of the dodo.
source:
TmoNews
via
BGR